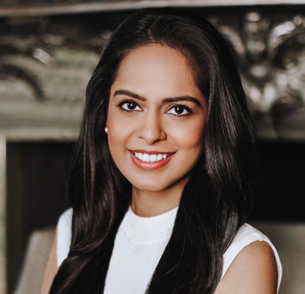 Dr Reena Wadia
Reena qualified from Barts and The London with the prestigious Gold Medal in addition to many other notable undergraduate dental awards. Following general practice, Reena was appointed as a Senior House Officer in both Restorative Dentistry and Oral Surgery. In addition to completing the speciality training programme in Periodontology at Guy's Hospital, Reena went on to become a specialist associate at King's College Hospital. Today Reena is a renowned figure of authority across the global dental industry and is the Principal Periodontist and Founder of RW Perio, the leading clinic for periodontal health located on 75 Harley Street.
Dedicated for acquiring and building new knowledge Reena is well known in her field and in the media for encouraging and supporting other dental professionals by sharing any learning and experiences. To this end, she created her own blog and set up Perio School, a global teaching academy. Reena is a trustee of the Oral & Dental Research Trust (ODRT), which was established to promote the relief of suffering in oral and dental diseases through research and education. She has also been named as co-editor of the 'Other Journals in Brief' section of the British Dental Journal. Reena also has a key role in the European Federation of Periodontology Communications Committee and is an Invisalign Advisory Board Member.
Reena is a regular fixture within the media and is regularly seen contributing to publications including Vogue, The Times, Harper's Bazaar, Tatler and Forbes.
Back to trustees